Start with Herbalife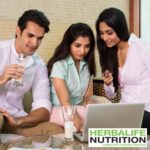 Start With Herbalife : Around the world, thousands of people just like you have changed their lives with the Herbalife business opportunity-and you can, too! From setting your own hours to achieve financial independence, the lifestyle of your dreams is finally within reach.
Take the first step to the life you deserve !
Whether you're planning the future of your dreams or just need cash for today, start on the path to life changing success as an Herbalife Distributor. Regardless of experience or education, you'll receive personalized support every step of the way as you build your business with exciting opportunities for:
Top Compensation
With only minimal start-up costs, Herbalife's compensation plan ranks among the most generous in direct-selling today.
Powerful Training
          From company events to online support, Herbalife Distributors succeed with the best training and sales tools available.
The Best Products
          Herbalife's scientifically formulated weight-loss, nutritional and personal-care products are among the finest in the world.
Proven Success
          Herbalife's record of success spans over twenty years and includes millions of people.
If you always knew there had to be a better way, it's time to start on your personal path to life-changing success.
Are you ready to take the first step now?

For Joining from India (FREE JOINING):
If you are an Indian Resident*, you can apply as a Herbalife Associate on our website for Online Associate Registration and take the benefit for world-wide opportunity.
To do so,  Just follow these few short steps stated below and be a part of incredible business opportunity:
A.  For joining Herbalife as associate/member/distributor, you need to have the following documents/data with you:
Scanned copy of passport size photograph (Applicant's Face must be clearly visible)
Scanned signed copy of a valid government ID proof (PAN / Voter Card / Aadhaar Card / Drivers License / Passport)
Scanned signed copy of a valid Address proof (Voter Card / Aadhaar Card / Drivers License / Passport / Ration Card)
Sponsor's Herbalife ID Number:  (Please Call on +91 723 00 60 201 to know the Sponsor ID Number)
First 3 Letters of Sponsor's Last Name: (Please Call on +91 723 00 60 201 to know the Sponsor's Last Name) 
B.   Once you have all the above documents/data with you as required by online joining form Click on  Online Associate Registration link so it will open the online joining form for you.
C.   Also have the clearly visible Photograph of Applicant and Spouse (if married),  Applicant's Identification ID's (Photo ID Proof) Scanned Copy/Image  Recognized by Indian Government e.g. Any one of among PAN Card, Driver's License, Voter Card, Ration Card, Passport etc. These are required to be uploaded while you submit the Application Form.
D.   Now ready to apply by Online Associate Registration and click the button "Become a Preferred Customer" OR  "Become an Associate" on the form that opens as per your requirement as a Herbalife Products Consumer or Herbalife Associate. and then fill the Form with correct Sponsor's Herbalife ID and
E. After completing the registration process you have to download the Application Form Document that contains Application Form (First Page) and the Supplementary Associate Agreement Form (Two Pages) within it, Take the print out and sign them and then upload them all using I-Channel. That's all.
You will get the acknowledgement email from the herbalife on your registered email id after successfully uploading all required documents duly signed. You have to reply this email with some message like "Please activate my account.".
After Uploading all the required documents, and replying the acknowledgment email, Herbalife will process and verify all the documents so then your account is get activated hopefully within 48 hrs and then you are ready to enjoy all the benefits of Herbalife Associateship based on your selection of becoming a Preferred Customer or an Associate..
If you have any further questions or you want to join herbalife from any other country rather than India, please do not hesitate to contact us or call on +91 72 300 60 201 so we will be happy to help you and serve you better.
No products were found matching your selection.